Make learning, communication and compliance simple with Mindzeed Connect
Mindzeed Connect is a modern, cloud-based communication platform. Mindzeed Connect allows you to set up courses, presentations, surveys and more, which can then be deployed to your employee groups, branches or single users. Mindzeed Connect is designed and built to be fast, simple and secure for all users, content managers and partners. Simple and effective.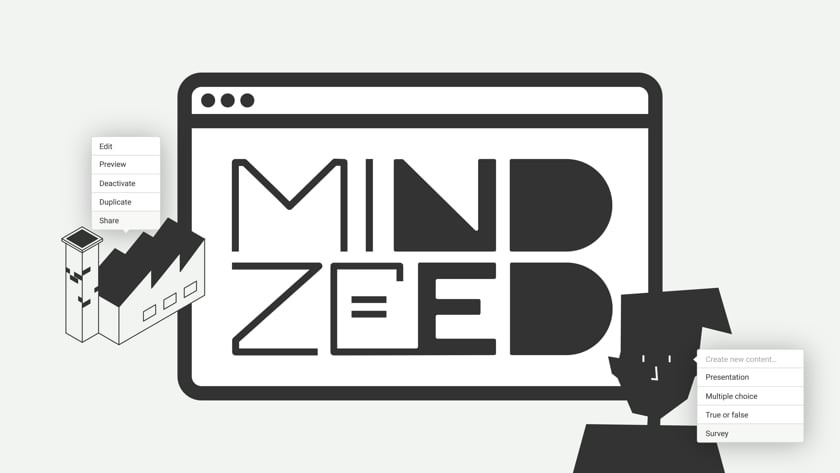 Mindzeed Connect is the simplest and most effective way to distribute learning and information throughout the organization. And with advanced statistics, you can track users' progress.
In Mindzeed Connect you also have access to use content from other content creators and you have the opportunity to share content between departments or branches.
Mindzeed Connect is designed to be a simple and effective tool. It takes minutes to create content and assign it to users. Just as communication should be. And if you use Mindzeed Awareness you will be familiar with Mindzeed Connect.
If you want a free demo account or bul you would like to know more, contact us at mail@mindzeed.com
Frequently asked questions
How do I create a Mindzeed Connect account?
All companies that sign up for Mindzeed Awareness also have access to Mindzeed Connect. For more information call +45 429 06 459 or write to support@mindzeed.com
What is 'content' and what is a 'module'?
'Content' corresponds to a lesson and a 'module' corresponds to a course. This means that your course is built on 'content'. A module can be composed of all types of content.
Why don't users receive emails from Mindzeed?
To make sure that all users receive mail from Mindzeed, you must whitelist support@mindzeed.com
If this is not done, there is a risk that emails will be considered spam and not received by the user.
How do I create content in Mindzeed Connect?
Select the 'Modules and Content' menu item. Click 'Add content'. Then choose which content type you want. Name your content under 'Content Name'. This name is for personal use only and will not be published. Fill in the content preferences, upload a 'thumbnail' and then click save. Then, create your content in your chosen language by clicking 'Add language'.
How do I create a module?
Select the 'Modules and Content' menu item. Click on the 'Add module' menu item.
Name the module. This name is only used internally in the system. Upload a 'thumbnail' and then click save. You can then add user groups and content to your module.
What do the different user roles cover?
With a regular Mindzeed Connect account, there are three different user roles.
'Employee' is a regular user who can be assigned and attend courses.
'Creator' has rights as 'Employee', but also the possibility to create content and modules. 'Manager' has rights like 'Creator', but also the right to create users, user groups, add users to groups and modules.
How do I create a user?
Click on 'Users and groups'. In the 'User Management' tab, click the 'Add User' button. After you fill in the fields and save, the new user will receive an email with login information.
How do I delete a user?
Under the menu item 'Users and groups' select the tab 'User administration'. In the check box to the left of the username, select the user you want to delete. Then go up and click on the 'Delete Selected' button. You will then be asked to confirm your choice.
How do I assign a user group to a module?
Select the 'Modules and Content' menu item. Click on the three dots on the bottom right of the module. Click 'Edit' in the menu. In the drop-down menu under 'User groups', you now have the option to add the desired group.
How do I share content?
As a Mindzeed Partner, you can share content with your sub-organisations. Select the 'Modules and Content' menu item. Click the three dots in the bottom right corner of the content you want to share. Click 'Share' in the menu. A new window will then open. Then select the organizations you want to share the content with and close the window again. The content will now be available at the selected organisations.
What file formats and media are supported?
Mindzeed Connect supports video from YouTube and Vimeo. Uploads of .mov, mp4, jpg, png and PDF are also supported.
Where is my data stored?
All data is stored at Amazon Web Services in Frankfurt.